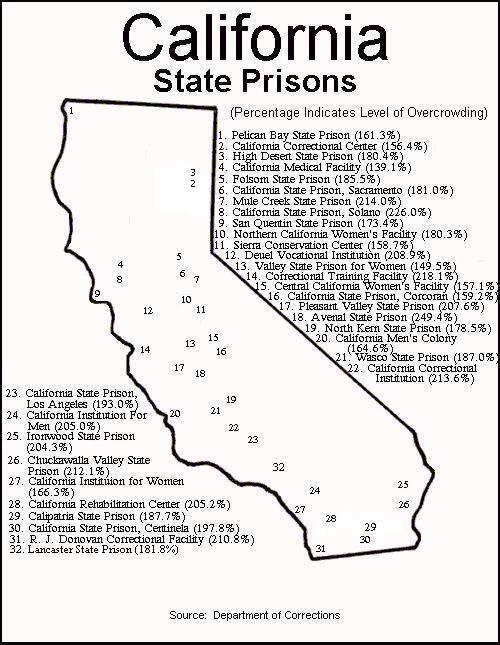 CALIFORNIA'S OVERCROWDED PRISONS


by Fred Dungan
"The only public housing built during the last ten years has been jail cells." - Reverend Jesse Jackson, Jr.
In the 132 years between 1852 and 1984, the state of California built twelve prisons. In the eleven year period between 1985 and 1996, the state built sixteen more. By 2001 the Department of Corrections operated 33 prisons. Four house only women and one, the California Rehabilitation Center in Norco, incarcerates male and female offenders.
In 1977, California housed 19,600 inmates. A decade later in 1998, the inmate population had skyrocketed by an astronomical 811 percent to 159,000. By February 2000 that number had jumped to 161,000. California now runs the largest prison system in the Western world. It houses more prisoners than do the countries of France, Germany, the Netherlands, and Singapore combined. California has spent $5.2 billion on new prisons since 1977, yet it still has the most overcrowded system in the United States.
Currently, the state of California incarcerates one out of every eight prisoners in the United States. It is estimated that California will eventually need 30 to 50 new prisons to accomodate the influx of prisoners dictated by mandatory sentencing, stiffer enforcement of parole violations, and the three-strikes law.
Stress generated by packing people as if they were sardines has resulted in scandalous behavior by guards and inmates alike. In 1999 there were riots at Norco (17 inmates injured) and Chino. Guards at Corcoran had to be disciplined for staging gladiator fights. Five employees of the women's prison near Chino resigned in September 1999 amidst sexual misconduct allegations and 40 more officers were said to be involved. Investigators have expanded the probe to the other three women's prisons. At least one incident has been referred to the San Bernardino County district attorney's office for possible criminal prosecution. According to Kati Corsaut, a spokesperson for the Department of Corrections, "We are focusing the investigation on the staff." Investigators from Internal Affairs have documented 78 cases of misconduct by guards. In February 2000, a retired correctional officer and another officer on paid administrative leave from the California Institution for Women were arraigned on one count each of engaging in sexual activity with a confined consenting adult, which is a misdemeanor under California law.
On December 20, 2001, fighting broke out in the recreation yard at Lancaster State Prison, which is located in the Mojave Desert approximately 40 miles north of Los Angeles. Startled guards used pepper spray, tear gas, and wooden bullets on the prisoners in a brutal blood bath that injured 300 (some were medivaced by helicopter). Although designed to incarcerate 2,200 prisoners, Lancaster State Prison has been made to stuff more than 4,000 in its minimum and maximum security wings.
The state's worst prison riot in more than a decade began in the morning of Wednesday, February 23, 2001, a dark overcast day, after guards at Pelican Bay State Prison had frisked more than 200 maximum-security inmates and sent them outside for routine exercise in the recreation yard. They had been outside less than an hour when one group of inmates converged on another, and the three-acre yard erupted in a rolling series of vicious battles—pitting black inmates against whites and Latinos. Guards shot 13 inmates, killing one. An additional 35 inmates were treated for less serious injuries—primarily slashing and stabbing wounds inflicted with approximately 50 homemade weapons smuggled into the yard in apparent preparation for the fight. The dead prisoner was the 56th inmate to be killed by gunfire in California state prisons in the past 30 years.
Privately operated prisons under contract with the state of California to house non-violent minimum/medium security felons have not fared any better. On October 16, 2001, eight inmates and two guards were injured in a melee involving 135 black and Latino inmates at the Victor Valley Medium Community Correctional Facility in Adelanto. While at lunch, a fight broke out over what Russ Heimerich, a spokesman for the California Department of Corrections, termed "an issue of disrespect.rdquo; A female sergeant employed by Maranatha Private Corrections, which operates the men's facility for the state, was struck in the head with a microwave oven, requiring 14 stitches to close the wound. A second guard, also female, received a blow to the face. In March 2000 more than 100 inmates had to be moved from the private Victor Valley prison to state facilities following a racially fueled insurrection.
More than 100 inmates were wounded and 20 were hospitalized with serious injuries from a nearly hour-long melee in which inmates threw mattresses and banged heads against bunk beds on February 4, 2006, at a Castaic, California facility. The North County Correctional Facility, about 40 miles northwest of downtown Los Angeles, is a maximum-security complex composed of five jails that together house about 4,000 inmates. The main fight was broken up by officers firing tear gas. Smaller fights broke out for at least four hours after the main brawling ended. Officials said the brawl stemmed from racial tensions. According to Sheriff's Department spokesman Steve Suzuki, a 45-year-old black inmate who was a registered sex offender was killed. Twenty-six wounded inmates were treated at the jail; 20 inmates were hospitalized. No jail employees were injured. The jail has a history of race related riots. In 2000, a three-day riot at the Pitchess Detention Center in Castaic injured more than 80 inmates, leaving one in a coma. Attorneys representing 273 black inmates filed a civil rights lawsuit alleging the sheriffⳠdepartment failed to disarm Hispanic inmates.
Prison guards fired live rounds, pepper spray, and rubber bullets when faced with a riot by 38 inmates at Kern Valley State Prison on March 18, 2009 in which one prisoner was stabbed to death and 17 others injured. Four inmates were shot with a mini-14 assault rifle when guards moved in to quell the melee that erupted in the general population yard of Facility B. Four inmate made weapons were later recovered from the scene of the incident. Inmate Oscar Cruz, serving a 37 year sentence for first degree armed robbery and gang activity in Los Angeles County died of multiple stab wounds. Kern Valley, one of two state prisons in Delano, is home to more than 4,700 prisoners—nearly twice its designed capacity of 2,448, a problem that has long plagued California's 33 adult prisons.
According to prison spokesman Lieutenant Mark Hargrove, 80 officers responded to a riot on August 8, 2009, which involved some 1,300 inmates in seven dormitory-style barracks at the California Institution for Men in Chino. The riot was most likely prompted by tensions between black and Hispanic prisoners, seemingly a repeat of what happened in 2007 when an argument between a Latino and a Black inmate sparked a riot at the Chino facility in which several inmates were stabbed. In the latest sequel to what appears to be ongoing racial violence, a number of prisoners suffered injuries that required hospitalization.
On August 27, 2010, a riot broke out at Folsom prison involving 200 inmates. Guards wounded five inmates and two were injured by prisoners. The fighting broke out in the main exercise yard and lasted 30 minutes. Prison spokesman Lieutenant Anthony Gentile said guards fired their weapons after other efforts to quell the riot failed.
"We tried to control the situation with chemical agents dispersed over the crowd." "We fired several rounds of rubber bullets and that didn't stop them from fighting."
None of the inmates suffered serious injuries, and none of the 45 to 50 correction officers who responded were hurt.
SOURCES:

Associated Press, msnbc.com, One Dead, More Than 100 Hurt in Jail Race Riot, Feb 5, 2006

Coronado, Michael, Press-Enterprise, Riverside, California, Aug 10 2001, B4

Dyer, Joel, The Perpetual Prisoner Machine, Westview Press, 2000

Ismael, Katie E., Press-Enterprise, Riverside, California, Oct 17 2001, B4b

Marshall, John S. and Samantha Young, Folsom Guards Fire at Rioting Prisoners, Press-Enterprise, Riverside, California, Aug 29 2010, A15

Williams, Carol, Guards Fire Rounds During Fatal Prison Riot, LA Times, Mar 20, 2009, A17

This page last modified on July 2, 2023.