ABOUT THE COVER: Less than a week after the tragic suicide attacks on the World Trade Center and the Pentagon, I was purchasing a gallon of milk at a convenience store when a magazine rack next to the checkout counter caught my attention. Several tabloids featured slick, garish full-color closeups of burning corpses descending from shattered windows. It struck me as disrespectful in the extreme. The picture I carried in my mind from the newscasts I had watched on 9-11 was much more solemn—a gray on gray rendition of dust-covered refugees in suits and ties fleeing Manhattan on foot. Why not portray the World Trade Center in a similar fashion? Thus was born a grayscaled digital image in which the towers appear to be melting rather than crumbling. There are no windows to admit the hijackers' hate. What happened on that terrible morning must be depicted as surreal, for, indeed, there can be no other explanation for how intolerance and vengeance—an embodiment of insanity and evil if you will—came to triumph, albeit only for a brief moment in time, over civilization.
Copyright 2002

To My Son—
Captain Che Peter Dungan,
United States Army
Duty, Honor, Country



Table of Contents

Preface
Chapter 1 The Way It Is—21st Century Law of the Jungle
Chapter 2 A Legacy of Self-reliance and Independence—Free Yourself
Chapter 3 Accepting Responsibility—Put the Blame Where It Belongs
Chapter 4 Loners Need Not Be Lonely—Be Social Without Sacrificing Independence
Chapter 5 The $hit End of the Stick—It's An Uphill Battle
Chapter 6 The Money Is No Good—Trust God, Not Money
Chapter 7 Burned at the Stake—What Happens Should You Dare to be Different
Chapter 8 House of Worship or Place of Business?—Corporate Religion
Chapter 9 Women and the Draft—Body Bags Know No Gender
Chapter 10 How the Electoral College Rigs Elections Against Us—Tilting the Vote
Chapter 11 Liberal or Conservative, Democrat or Republican?—Politics Sans Parties
Chapter 12 So Long, Savannah!—Lost Nukes Threaten the East Coast
Chapter 13 Dumping the SAT—Ethnic Quotas Sneak Through the Back Door
Chapter 14 Environmental Meltdown in the Heart of Southern California—Lack of Vision
Chapter 15 Pushing the Envelope—Going Postal
Chapter 16 Freedom of Expression—Having a Voice
Chapter 17 Daylight Saving Scam—Uncle Sam Thinks He's Smarter Than God
Chapter 18 Patriots—Where Were the Missiles on 9/11?
Chapter 19 Bushwhacked—Corruption, Influence Peddaling and Outright Bribery
Appendix A George Washington's Farewell Address
Appendix B Email About Snail Mail
Appendix C Real People Let Off Steam—Mark Twain
Bibliography


"You show me a capitalist, I'll show you a bloodsucker." - Malcolm X

What if I don't want to be a consumer? Mortgaging my soul for a houseful of high-tech baubles and trinkets doesn't really appeal to me. Do I have a choice? Am I doomed to do what inhuman multi-national corporations will me to do or can I take control of my life and make my own decisions?
Early man, the carniverous hunter, once stalked game with primitive spears. Today, his direct descendant, the corporate executive, has a far more effective arsenal. Small monthly payments, easy credit, and instant cash rebates lure prey while double digit interest rates stun rather than kill, a marked improvement, considering that it enables corporate predators to cut innumerable meals from their live consumer victims.
Don't get me wrong. I fully appreciate how much drudgery has been eliminated by technology. But if I have to spend 80 hours a week closeted in a claustrophobic cubicle breathing the stale, recirculated air of an overcrowded high rise office building where the windows can't be opened to afford the lifestyle of my dreams, how much use am I getting from the stuff I worked so hard to buy? Deep down inside I feel an urge to chuck it all and be free.
An ongoing survey of 5,000 American households concluded that job satisfaction dropped 13.5 percent between 1995 and 2000. The director of the consumer research center for the Conference Board in New York, Lynn Franco, was astonished to discover that despite an invigorating upturn in employment, more and more workers are disgusted with their jobs. She thinks that "over the last several years, things have really accelerated. The pace of change, the learning curve on the job—we're seeing some of that stress spill over and have a negative effect on employee attitudes."
What lies ahead? That balding Maalox-chugging co-worker with the prodigious paunch whom the company just let go could be me in fewer years than I would care to imagine. All that keeps me here is fear—fear of not being able to pay the bills and fear of the unknown. Do I have what it takes to make it on my own?
There is only one way to find out. Clinging to the teat never got anyone anywhere. Nor did self-doubt. It's about a whole lot more than just the money: it's about fighting for what is right, becoming the person I always wanted to be, and living life with a meaningful purpose.
Dependency is for those who can't survive on their own. Pets and little children are dependent. Anyone who possesses a decent education and a modicum of common sense should strive for better.
Nothing of worth comes free. My independence cost me plenty. There isn't a shiny new car in my driveway—in fact I don't even have a driveway. Although my winter coat is eleven years old and the lining is in tatters, it will have to last a few more seasons. And, because I cannot afford to take a day off or go on vacation, I work harder now than before I quit my job. But I'm probably better off without all that soft living and abundance.
What little I do have I appreciate more. My boots get shined every night, the books get returned to the library on time, and I make it a point not to hold the refrigerator door open any longer than necessary. More useful to me than a Ginsu, my closely honed pocketknife can pry the lid off of a paint can or punch a hole in a leather belt. Making do is a lost art that I rediscovered when I joined the ranks of the unemployed. Are you aware that popcorn popped in an ordinary skillet on an ancient gas stove tastes much better than the expensive microwave variety and costs ten times less? What good is fast food if it takes longer to drive back and forth to the restaurant than it would to cook a real meal? Don't be duped by the ads, nothing is more convenient than staying at home.
No, less is not more. But neither is more always better. If something you add to your life subtracts from something else, the sum total could be negative.
Stress is usually the unseen quantity in life's equation. It greatly subtracts from everything we value most. Too much stress can cause indigestion, make us snap at loved ones, turn our hair gray prematurely, and raise the blood pressure. Continued stress over long periods of time has been known to affect people to the point where they commit suicide or go postal.
Deal with it? That's easier said than done. Averting stress with alcohol and drugs is for losers. Although physical exercise seems to help, you can only jog so far. Your employer won't tell you this, but the only proven method of eliminating stress in the workplace is to go face to face with the boss. There are ways to do it without being insubordinate or losing control. If he fires you anyway, then the job wasn't worth keeping. You can do better than work for a jerk who can't take constructive criticism.
Let's get one thing straight. The reason you took the job in the first place was to improve your life. If it winds up ruining your life, you are better off without it.
No job is easy and legitimate hardships only serve to make us tougher. Never whine, but be sure to confront any incursion upon your dignity—unfair treatment of any kind—before it can snowball into something you won't be able to deal with. No matter how much they pay you, it can't compensate for loss of self-respect.
If you belong to a union, don't expect it to do this for you. In case you haven't already noticed, a union's primary concern is its own perpetuation and aggrandizement. The best way to resolve a grievance is to communicate it directly to the boss yourself. Do you really think a union steward is going to put more effort into it than you would? Solidarity in the modern, competitive workplace is a bad Polish joke. Unless your interests happen to coincide with those of others, do not count on their support.
Don't be scared to go it alone. In the workplace, as well as in our personal lives, it is usually the best way to go. What we may lack in experience, we make up for in perseverance. Face-to-face and one-on-one is how things best get done.

Diogenes searched for an honest man and never found one. You probably won't either. The more money that is involved, the less likely it is that you will get the truth out of someone. William Shakespeare advised people to "love all, trust a few." Far be it for anyone to add an adjective to the immortal bard's wisdom, but society has seen some dramatically disturbing changes in the last 400 years and, were Shakespeare to pen the same phrase for modern readers, it would most likely be changed to "trust pitiful few."
Never trust a government agency. Bureaucracy is an odd duck. Insulate it from the truth with enough layers of well-intentioned public servants and it will look you in the eye and tell you with a straight face that the President didn't have sex with an intern in the Oval Office. Produce evidence to the contrary and it will quibble over the definition of sex. Bereft of morals and ethics, acknowledging no guilt, it has no qualms about flying in the face of propriety.
Government is as good as the person who heads it. There is a long-standing myth that the President is elected by the citizenry and is therefore responsive to our needs. I doubt very much that anybody still truly believes it, but, just in case, let's go over the reasons why it isn't so. First of all, the votes which elect the President are cast by the Electoral College, meaning that the popular vote doesn't count for squat. Secondly, the fact that we have a two party system dictates that there is little chance of a third party candidate being elected. In a radio broadcast during the 2000 Presidential campaign, analyst Dave Ross made the remark that Ralph Nader and Osama bin Laden were the two most feared men in America—bin Laden because he spread terror and Nader because he spread truth. After being informed he would not be allowed to participate in any of the three televised debates, Nader tried to take a seat in the audience, but was turned away at the door. He returned with press credentials, but once again was recognized by security personnel and was politely told to get lost. Anyone who saw the debates knows that Bush and Gore did not differ very much in their viewpoints and came off more like two good old boys from an exclusive men's club than opponents in a hotly contested race.
Approximately one-half of all voters do not go to the polls on election day. In a way this means that 50 percent are casting ballots for none of the above. Lamentable, yes, but it is better to be disaffected than duped. If such a large number of citizens boycotted an election in any other country, would we consider the results to be valid?
Wouldn't it be nice if we could tell everyone that their vote really does count? But then, that would be a lie. The Electoral College determines who will be the next president. Congress does not trust us to make that decision for ourselves.
The game of life is rigged. In business as well as politics, the average guy foots the bill and gets peanuts in return. Don't speak up and they will think you like it. Suffering in silence will get you nowhere. I'm for screaming bloody murder.
Ashamed of what burns inside you? Must you always maintain your composure, even if it requires mind-dimming medication and excessive amounts of chicken soup for the soul to get there? Anger exists for a reason. When amalgamated with common sense and a rigid will of stainless steel, righteous anger can function as a keen knife for precision surgical removal of deep, malignant institutional corruption.
Anger is essential to emotional well-being. Step on my toes and I hurt. Given enough pain, anyone will react. Being natural isn't just good for animals and the environment, it's good for us as well. With direction, righteous anger can shake mountains and topple the unjust—it's what cunning manipulators fear the most.
Never allow anger to grow into hatred. While anger can be put to constructive purposes, hate has no purpose other than to destroy.
Unlike most Americans, I live in a rundown neighborhood where there is more anger than money. Unfortunately, much of the anger is dissipated on gambling, alcohol, drugs, and sex instead of being focused on the conditions that produced it.
What ever happened to the War on Poverty? When I take a look around me, it certainly seems that poverty won. Too bad, because it really wouldn't take that much to reverse the trend. In fact, simply by eliminating waste, we could save enough to give all the children who live in impoverished communities a decent education.
Let me give you a familiar example. There was a ton of money—much of it tax dollars in the form of matching funds—spent on the 2000 Presidential Election. Federal figures estimate the two major parties spent $405 million on the campaign. Here's how the money breaks down for Republicans, Democrats, and You:
Campaign 2000:
Total Spent by Republicans: $252,000,000
Total Spent by Democrats: $153,000,000

Dollars Spent per Vote:
Republicans: $5.24
Democrats: $3.18
Here's what that money could have bought...
Gallons of Gas ($1.65)
Republicans: 152,700,000 gallons
Democrats: 92,700,000 gallons

Internet Access ($20/month)
Republicans: 12,600,000 months
Democrats: 7,600,000 months

4-Year College Educations ($100,000)
Republicans: 2,520
Democrats: 1,530

Ford Explorers ($22,000)
Republicans: 11,454
Democrats: 6,954

School Lunches ($1.25)
Republicans: 201,600,000
Democrats: 122,400,000

Dictionaries ($8.00)
Republicans: 31,500,000
Democrats: 19,100,000
Yes, $385,000,000 could have accomplished some good. Instead it mostly went to buy television air time for George W. Bush and Al Gore. What an incredible waste, considering that each station is licensed by the Federal Communications Commission and must by law serve the public's interest. Asking broadcasters to provide free spots for presidential hopefuls is within reason. That they don't is yet another example of regulators being in bed with the industry they are supposed to be regulating.
As I write (late December 2000), there are rolling electrical blackouts throughout California, analogous to those that tourists sometimes encounter when traveling overseas—an ongoing embarrassment to a state that defines itself as cutting edge. A former Republican governor, Pete Wilson, deregulated electric utilities three years ago, claiming that competition would result in lower rates to the consumer. Instead, what has happened is that wholesale power generators in Texas and Oklahoma have artificially decreased supply to justify upping their profit margins. The squeeze on consumers is twofold—less juice for more money in a melodrama where Adam Smith is held for ransom by Niccolo Machiavelli (played ably by Enron Corporation, a prime producer of wholesale electricity and the number one contributor to George W. Bush's lavish bid for the presidency). Laughing all the way to the bank, Enron moved up to Number 7 among the Fortune 500 for 2000, rising from Number 18 (Enron subsequently went bankrupt, its top executives having bilked the shareholders out of billions). Its competitors (some might say collaborators) did almost as well—Reliant Energy made it up to Number 55 from 114th place and Duke Energy surged from 69 to 17.
According to Jesse Jackson, George W. Bush stole the election and should not be president. Certainly, the last minute partisan machinations of the United States Supreme Court which effectively stopped the recount of thousands of disputed Florida ballots lends credence to this allegation. Did wisdom and jurisprudence take a backseat to power politics? If so, we need to consider replacing the rule of law with trial by combat to more honestly reflect our values.
In his annual report to Congress on the U.S. judiciary, Chief Justice Rehnquist confessed, "This presidential election...tested our Constitutional system in ways it has never been tested before...Florida state courts, the lower federal courts and the Supreme Court...became involved in...way[s] that one hopes will seldom...be necessary in the future." A ranking Democrat on the Judiciary Committee, Senator Patrick Leahy of Vermont, remarked, "the court [has been dealt] a serious blow by taking actions many...consider to be political rather than judicial."
As of December 21, 2000, the United States Bureau of Prisons housed 146,535 inmates. The adult U.S. correctional population reached 6.6 million men and women at the end of 2001—a record high—with 3.1 percent of the nation's adult population in jail or on parole.
Knowing the biases of judges, I can't help but wonder how many inmates are incarcerated for committing crimes of conscience. Of course, nobody admits to any political prisoners whatsoever. Considering that blacks form 38 percent of the federal inmate population—a number many times greater than one would expect from an ethnic group accounting for 12.8 percent of all Americans—it appears likely that Justice is sneaking an occasional peek beneath the blindfold.
Justice has a price. Supreme Court Justices receive lifetime appointments (how's that for job security?) and make $140,000 per annum. Not too bad, considering that almost half of all justices were appointed to the court with no previous judicial experience.
Speaking to the Washington Post, Akil Amar, professor at Yale University, observed that "this is a very assertive court that is not afraid of invalidating everyone else. . . the only thing it's afraid of is admitting it made a mistake." Such is the nature of absolute power when it is mistakenly bestowed upon lesser men and women.
George W. Bush, who was selected rather than elected, is intent on reviving ruthless 19th century cartel capitalism. Currently, he is refusing to rebuke his Texas cronies at Enron for having produced an artificial energy crisis as a means of jacking up the price of electricity in California (revenge for having voted overwhelmingly for his opponent?) and, if successful, I predict that these very same cunning thieves who bankrolled Bush's run for the presidency will go on to suck the life out of our nation's economy by denying us sufficient sources of electricity and natural gas at reasonable prices.
Historians will someday write that ours was a golden age, the Golden Age of the Pax Americana. Similar to the Pax Romana, when Rome's legions kept order throughout the world, allowing commerce and culture to flourish, our military stands virtually unopposed. Like ancient Carthage, the Soviet Union has fallen. For a decade the United States has been exercising singular control over world affairs, policing the planet, rendering it safe for corporate capitalism. The republic yet stands, weathering crisis after crisis, succeeding where Rome failed.
It's a good sign, but there are no guarantees. Whither we go from here will make us or break us. An unprecedented opportunity exists to reform what ails us and bring all of the sheep into the fold.
We all know inherently what is right. But when you listen to the evening news, you get the corporate version of what is wrong. There is more amiss than Mediterranean fruit flies spoiling a bumper crop of kudzu with a street value of 50,000 rubles. People don't become disaffected over trifles. Dr. Martin Luther King, Jr., was correctly assessing the potential for social upheaval when he remonstrated, "A riot is at bottom the language of the unheard." Voices of the underclass largely go unrecorded. This book is my honest attempt to remedy, if only in part, this regrettably unjust situation.

The Way It Is

"The condition of man . . . is a condition of war of everyone against everyone." - Thomas Hobbes

Everyone is a loner. From birth to death, nobody cares about you but yourself. Believe me, if you don't look out for Numero Uno, no one else will. What's that you say? Your mother cared about you and that's why she clothed and fed you? Bullshit. The dumpsters behind hospitals are full of tiny rotting corpses from women who got an abortion to get out of motherhood. Mothers don't give a damn.
Think you have friends? They put themselves first. Let it get tough and you will soon see what people are really like. The Donner Party wagon train was supposedly an association for mutual benefit and protection. But when the snows fell and food ran low, they ended up killing and eating each other. Your friends are no different. What they like about you most is what they can get out of you. Better wise up before it's too late. You are on your own in this world, whether you realize it or not. Whenever someone starts to get chummy with you, just visualize him hunched over your corpse with a salt shaker in his hand.
Whenever a reporter labels someone a "loner" on the evening news, most people are conveyed the image of an introverted sociopath—definitely angry—most likely violent, possibly even a crazed serial killer or a mad bomber. Such ridiculous stereotypical profiling used to be reserved for minorities and women. But nowadays these groups have some degree of protection under the law, consequently the media have taken to demonizing illegal aliens, the homeless, and social outcasts. Why? Because those segments of our society lack political clout and are therefore easy targets. That's how it works; skulking predators attack the weak as they straggle behind the herd. If society was half as civilized as it purports to be, it would protect these people. But, no, when pushed to the limit, we act like animals. When you get down to basics, the name of the game is still Survival of the Fittest.
In case you haven't noticed, almost all of the social welfare entitlements enacted since the Depression have either been cut or eliminated entirely. Food Stamps are down nearly 25 percent and single mothers are systematically being kicked off of welfare and forced to take dead-end minimum wage jobs while their children go unsupervised at home. Uncle Sam is literally pulling the safety net out from under us. The "haves" are doing their best to glamorize this economic butchery as a return to the glorious era of laissez faire capitalism.. For the vast majority of the "have-nots" this will undeniably translate into a return to the Law of the Jungle.
Even worse, the gap between the rich and the poor is steadily increasing. The number of Americans living in poverty increased from 25 million in 1980 to 36.5 million in 1997. Currently, the poverty rate for children in the United States is 20.8 percent—twice the rate of any other age group. Needless to say, not even the staunchest of laissez faire capitalists would dare claim that the growing numbers of malnourished, impoverished youth have only themselves to blame for their degradation.
According to a 1996 estimate, 760,000 people are homeless on any given night. Fully 6.5 percent of Americans have experienced homelessness at some time in their lives. Families with children—those least able to cope with the effects of homelessness—are the fastest growing segment of the homeless population, presently accounting for upwards of 40 percent. Moreover, 8.5 million households have incomes of less than $10,000 per year. Could you adequately clothe and feed your family on such a meager salary?
But nothing like that could ever happen to you. You've got a steady job and you're not a bit worried.
Oh, yeah? Just how secure is your employment? Do you expect to work for the same company until retirement? What's the chance that you will be downsized or replaced with a younger worker? Is your employer as loyal to you as you are to him? Or will he suck the life from you and then discard you like yesterday's newspaper once he has gotten his use from you? Be realistic; after all, don't you owe yourself the truth?
What's that you say? You can always get another job? Today, maybe, but how about after you turn forty or fifty? Although you probably have a lot of miles left in you, nobody ever buys a used car when they can purchase a new one for the same price. They will slam your doors and kick your tires enough to keep you from suing them for age discrimination before hiring a younger applicant. I know. I've been there and done that.
And, while we are at it, let's analyze those rosy economic/employment statistics the federal government has been feeding the media lately. Since the numbers are compiled by Uncle Sam rather than an independent firm, they are not above suspicion. It turns out that the formula for figuring unemployment gets changed about as often as a baby's diaper and has been known to contain an even higher concentration of fecal matter. If my own eyes convince me that an amazingly high percentage of my neighbors are long-term unemployed, then why should I believe what I read in the newspaper? Nobody I know is a millionaire and the majority of people with whom I come into contact on a daily basis—clerks, receptionists, etceteras—earn little more than minimum wage. In most cases, an individual in the exact same job twenty years ago made more in terms of real take home income than the person working it today. This explains why husband and wife now both have to work in order to adequately support a family, whereas the previous generation was able to get along rather well on only one income.
It is not by accident that what we regard as the traditional nuclear family—husband and wife with two kids and a mortgage—is fast becoming an endangered species. Our hopes and goals are not so much changing as the conditions under which we labor. Make no mistake, the vast surge in non-traditional lifestyles of the past thirty years has been to a greater extent than most of us realize a knee-jerk reaction to forces in the workplace. As real wages decline and job security all but vanishes, it should come as no surprise that men and women would opt for one night stands or odd, often bizarre, relationships rather than raising a family as their parents did. A future full of economic uncertainties—a future viewed by all too many young people as offering no guarantees whatsoever—is hardly conducive to family planning. Isn't it ironic that family planning in this day and age has come to be a synonym for birth control? Am I the only person who can recall when family planning meant deciding on how big of a house to buy and how much needed to be set aside for the children's college tuition? Historians and social scientists have a term for successful cultures that lose sight of the values that made them strong. They call them decadent. Squandering the birthright of future generations on hedonistic self-gratification is suicidal. So died ancient Rome—partying as if there were no tomorrows until suddenly—lo and behold—there was no tomorrow.
Economic prosperity is not shared equally. Those who promote the theory that wealth flowing in at the top will sooner or later trickle down to the bottom are oblivious to the fact that the gap between the richest five percent and the poorest five percent of the population continues to widen at an alarming rate. It is amazing how well people will endure poverty when conditions warrant. But having to go without the basic necessities while watching others enjoy abundant luxury is an entirely different matter. Such is the stuff of discontent and rebellion.
Not being completely stupid, the government does what it must (albeit grudgingly) to protect its image. In order to achieve an outward appearance of working towards equality, it has set quotas for hiring blacks, women, and other minorities. However, because the problem was misstated as being one of race and gender instead of what it is—one of economics—the end result has been little more than a cosmetic facelift. Yes, some of the white male faces have been replaced by black, brown, and female faces, but nothing has really changed. The unjust, exploitative, and injurious system remains intact. The predators may look different, but, make no mistake about it, they are still predators. Of course, potential predatory types always existed among all races and genders. By empowering the predators among the disaffected, the government has cunningly created a new super breed of exploiters that are even more effective than their white male predecessors at keeping the disadvantaged down. While it may be of small comfort to know that the boot that is stomping on your fingers is black, you should nevertheless realize that it is first and foremost a boot, and its color is only of incidental or, at best, secondary importance.
Economic inequality breeds social injustice which, if left to simmer, inevitably results in violent action. Terrorists aren't born, they're made. Dissect one and you will most likely find it fueled with high octane righteous indignation. Although it tends to function like a beast, it used to be a human being—just like you and me—before it became angry as hell and decided it wasn't going to take it anymore. Don't believe me? Then please explain how Gerry Adams and Yassar Arafat, formerly labeled as terrorists, have managed to become internationally respected leaders? People change when conditions change. Inside of every wild-eyed, pistol waving terrorist, a law-abiding, productive citizen is struggling to get out.
Terrorism is spawned by lack of opportunity, desperation, and frustration. Speaking at the United Nations Summit on Global Poverty in Monterrey, Mexico on March 21, 2002, World Trade Organization Director-General Mike Moore called poverty a "time bomb lodged against the heart of liberty," while the president of the U.N. General Assembly, Han Seung-soo, referred to the world's slums as a "breeding ground for violence." Refugee camps where displaced people live in squalor without hope for the future are a good source of recruits for terrorist organizations. Place a peaceful individual in an overtly hostile environment—starve and subject him to innumerable injustices over which he has little or no control—and he will eventually turn violent.
Only when all other options have been exhausted do irrational acts come to be seen as being rational. Our natural instinct for self-preservation and survival is not easily overridden. Imagine the degree of inhumane treatment it would take to make a sane man strap sticks of dynamite to his body and blow himself up in the midst of a crowded marketplace. Under the right circumstances, sane men can and do commit insane acts. Someone please explain what advantage is gained by maneuvering someone into such a position. One could adequately clothe, house, and feed an entire refugee camp for the price of the security system at a single major airport. Which is preferable, installing expensive metal detectors and fluoroscopes or alleviating the need for them?
I can remember when terrorists were bad guys who accomplished their objectives by randomly maiming and killing innocent people. With the passage of time, however, the definition of terrorism—previously limited to particularly heinous crimes that terrorized humanity—has been expanded until it now includes minor property damage and verbal threats. The concerned father who threatens to demolish a boyfriend's car for failing to bring his daughter home by midnight, runs the risk of being arrested for making terrorist threats. Likewise, the terminated employee who, with a couple of beers under his belt, boasts to the entire bar that he intends to get even with his former employer, may find himself brought up on criminal charges. Ordinary citizens in a free society have the right to say what they want in private conversations without it being analyzed for politically incorrect content by Big Brother.
But it gets more absurd than that. Recently, a middle school student in Riverside, California, was expelled when a teacher saw a nail clipper equipped with a small blade in his open 3-ring binder. The school's principal agreed with the teacher's belief that the nail clipper could, under certain circumstances, be used as a weapon. Although the student had never actually touched the nail clipper, he was judged guilty of having brought a weapon to school. It took public protest and a lengthy appeal before the boy was allowed to go back to school. Common sense should have told the school administrators that this was a young man focused on education—this was his first offense—not a budding terrorist hell-bent on smuggling weapons into the classroom. However, if the school district was looking for a way to motivate the student body into rebelling against authority, it could undoubtedly find none better than to actively pursue its zero tolerance policy on weapons in just such an inane, unjust manner.
The day of the lone mad bomber is long gone. Terrorism, like everything else, has been taken over by disciplined professionals who, in view of the risks inherent in the trade, expect to earn a good living at what they do. Groups such as al-Qaida, Abu Sayyaf, Revolutionalry Armed Forces of Colombia (FARC), and Hamas are structured like corporations and are similarly mindful of finances. Prospective recruits undergo a probationary period during which they are screened, indoctrinated and trained. Other than the danger, it's just another job. No room for loners here; those in charge will stop at nothing in eliminating cowboys and loose cannons. An individual who acts in accordance with his or her principles is no more encouraged or tolerated here than in any other business.
When it comes to terror, no one individual could ever hope to match the expertise and resources of government agencies. A lone gunman or bomber is inevitably outclassed whenever an agency such as the FBI or CIA becomes involved. Faced with probable failure, only a madman—or, much more likely, someone driven to temporary insanity by situations and circumstances over which he/she has no control—would engage in such self-destructive—often suicidal—behavior. In the end, the only winners are the law enforcement agencies that depend upon public fears for increased funding. Were it not for the perceived threat of terrorism, all those expensive flak jackets, surveillance devices, and assault weapons—and the training it takes to utilize them—would quickly vanish.
The Twentieth century witnessed the birth of the totalitarian state. Increasingly, government is gaining a monopoly on violent force and using it to terrorize the individual. Let's not forget that the largest, most repulsive outbreak of terrorism in history—the Holocaust—was planned, organized, and executed in all its horrific details by a government. Is there any doubt that Hitler did not act alone?
In the 1930's, J. Edgar Hoover built a fiefdom by publicizing the chilling exploits and subsequent arrests of small-time hoodlums. Today, his successors seek to do likewise by magnifying terrorist activities. The plain fact is that there have always been fringe malcontents who have attempted to gain their political objectives by maiming and killing innocent people.
Security is worthless if it does not help the public to sleep well at night. Those who prey upon our fears betray the public's trust.
Compounding the problem of terrorism are various economic and social factors. Have you ever had to go through a metal detector before boarding a bus or a train? Ever stopped to wonder why not? I think I know. Everyone knows who Charles Manson is, but few have heard of Juan Corona, who claimed many more victims in California at about the same time. That's because Manson murdered celebrities while Corona slaughtered farm laborers. Why blow up a busload of common folks when the same munitions could knock an airliner from the sky?
Personally, I like people. One-on-one is all right. But add a cause or an ism to the mixture and things begin to get strange. Experience has taught me that corporations and governments use us shamelessly to gain their goals. After a while, being a pawn in somebody else's game loses its charm. That's why I chose to go it alone.
A Legacy of Self-reliance and Independence

"Whatever crushes individuality is despotism, by whatever name it may be called." - John Stuart Mill

What happened to rugged individualism? Our pioneer ancestors fought their way across America, each striving to realize his own unique ambitions, building a nation as they went. Although their lives were much harder than ours today, decadent social disorders such as divorce and suicide were almost unheard of.
Getting divorced and remarried is like trading in a used car. You are trading problems you know for problems you don't know. As soon as the honeymoon is over, you begin to realize that everyone has faults and that this relationship is destined to end like the last unless you work at making it successful. Anyone who expects to be deliriously happy is naive. Your great grandparents stayed married to each other because they had the good sense to make the best of what they had. How many marriages will it take until you realize that you got yourself into this situation and it will not get any better unless you learn to deal with it? One old clunker is as good as another—how long it will last depends on how it is driven.
Truly rugged individuals—the independent types who play the lead roles in the action movies—accept responsibility for their own actions. That's right, you married her and now you are stuck with her. You didn't choose your parents or grandparents and you don't want to get rid of them, so what makes you want to jettison your spouse? Isn't it ironic that the only member of your family that you selected of your own free will is the one individual you cannot get along with?
Little children blame others when anything goes wrong. As a responsible adult, you should realize that you can't learn from your mistakes unless you acknowledge them. Neither society nor Mom and Dad are the cause of your troubles. And even if they were, would it make any difference? I am willing to bet that somewhere, deep in your subconscious, you know this to be true. The time to start dealing with it is now. Nobody but you can put your house in order.
Rugged individualism is all about taking charge of your life. Being dependent on others renders you subservient to their values and goals. Trading your God-given right to do as you see fit for a handful of baubles and illusory convenience is nothing short of stupid. Be your own person. Happiness begins when slavery ends.
The mere act of declaring your independence can be cathartic. Hostility and despair soon vanish and are replaced by feelings of optimism, dignity, and self worth. As your perspective changes, so will your life. The key to loving others is to love yourself.
Rugged individualism is not gender specific and has little to do with machismo. In the wagon alongside every pioneer man there was a pioneer woman. To the east lie servitude and tenements, to the west lie hardships and an uncertain future. Leaving the past behind, they cast fear aside and set out in the direction of the Sun's arc—towards hope and a new tomorrow.
The frontiers are still there beckoning. Although different, the frontiers of the Twenty-first century are no less challenging than those of the nineteenth. An endless realm of choices awaits you. Inventions are waiting to be invented; galaxies are waiting to be discovered; and the world is waiting for you to find a cure for the common cold. Anything is possible for those who have the courage to take the risks. Nobody is going to do it for you. No corporation is going to knock on your door and set everything out for you nor is a government agency going to call you on the phone and tell you how it is going to be. You must do it for yourself. All that is required is the concentration it takes to formulate a plan, the will to act on the plan, and the perseverance to follow through.
It is your life. The choice is up to you. Will you take the high road, steer your own course and meet the challenges or skate downhill on a fun ride until you hit bottom? It takes courage to go the hard way. Have you got what it takes?
Tell me, when you go to the bathroom, do you wait for someone else to wipe you? Far too many people nowadays can't do even the simple things for themselves. They expect the government to find them a job and, in the event it doesn't, they demand food stamps, welfare, and free medical care for the rest of their lives. Like the superficially genteel Southern belle, Blanche DuBois, in Tennessee William's 1947 play A Street Car Named Desire, they are nice people who depend on the kindness of others. We feel sorry for them and want to do all we can to help. That's natural, but we have to be careful how we go about it. Assistance that does not work toward getting people to stand on their own two feet is no help at all—in fact, it's demeaning. In order to feel good about one's self, a person has to be productive. It is the givers, not the takers, who benefit emotionally from charity. Real help is a hand, not a handout.
* * *
Have you ever hired someone else to do a job, only to lament afterwards that you did not do the work yourself? It is a maxim that nobody cares about what is important to you as much as you do. Slipshod work, overblown pricing, and inordinate delays are all dangers of the post-industrial service economy era. Although you might want to think twice before attempting do-it-yourself surgery, there is absolutely no reason why you can't mow your own lawn, replace the washers in a leaky faucet, or paint the bathroom.
Not understanding the details of a job you are paying someone else to do puts you at their mercy. A disreputable plumber might sell you a new hot water heater when all you need is a thermostat if you don't have a clue as to why there is no hot water. Others will tell you this is the age of specialization—I'm telling you that although technology has changed, human nature hasn't. Leave yourself open and someone is bound to take advantage. It is best to know a little something about everything. The more you learn, the less of a sucker you will be. And, whenever possible, do the job yourself.
In addition to living better, self-reliance may actually help you to live longer. Reducing your dependence factor—the number of people you have to deal with on any given day—will result in a corresponding reduction in stress. It is possible, even in the midst of a big city, to be a loner. Cut out the bastards who are making your life miserable and you will be a much happier person.
Becoming a loner is almost like being born again. Wiping the slate clean and starting over is always an immensely exhilarating and rewarding experience. In self-reliance there is solitude and inner peace. Judging by the self reliant example set by holy men and monks, it actually aids the cleansing of the soul and thereby brings one closer to God.
The term "monk" comes from the Greek word "monos" which means "alone," "one," "only." There is perhaps no better way to attain enlightenment than to experience being joyfully alone and yet one with all. It is solely as individuals that we can find our place in the universe. The worth of an individual cannot be calculated by his value to a corporation or government; all institutions are artificial, temporal entities created to serve man's needs. When they degenerate to the point where they begin to affect people in a negative fashion, they lose sight of their original purpose and need to be changed. Meanwhile, it is better to be joyfully alone than unhappily together—it is up to you to decide whether these institutions are a positive or negative force in your life. Once you withdraw and reorganize, you may find it to your advantage to rejoin society under improved terms. Just remember the lesson of the monk: inner peace is not to be sacrificed on the altar of outward comforts.
Being a loner does not necessarily mean you have to rough it. The "rugged" in "rugged individualism" refers to strength of will rather than macho toughness. Loners don't all adhere to the same lifestyle. Independent people who go their own way are as liable to be found in a big city as on a secluded ranch. You don't have to live like a hermit or a refugee. Making money and selling out are two very different things. It is possible to sell your labor and/or ideas without sacrificing your soul. Though you might not, at least at first, make as much money, you will certainly feel a whole lot better about what you are doing. Whatever you do, remain true to yourself and you will experience less stress and less problems in the long run.

Accepting Responsibility

"We do not do what we want and yet we are responsible for what we are—that is the fact." - Jean Paul Sartre

It has become fashionable to blame others for what goes wrong in our lives. If a student ditches school, doesn't pay attention in the classroom, and consequently does not acquire the skills it takes to succeed in the job market, it is said to be a failure of the educational system. A mother who leaves an infant alone in a highchair and returns to find it toppled and the child injured is liable to sue the manufacturer. The lawyer representing a killer who was caught standing over the body with a warm gun in his hand will undoubtedly whine to the jury about the verbal and physical abuse his client suffered at an early age. There are psychologists who would have us believe that trauma can rob an individual of his or her inherent sense of right and wrong so as to render that person not responsible for any subsequent adverse actions.
That's bullshit. We can't all be victims. Someone has to be responsible. Taking responsibility for the consequences of one's own actions (or lack thereof) is a sign of maturity. Until we acknowledge them, we can't learn from our mistakes.
Each mistake we make is an opportunity to learn something new and benefit from the experience. Fixing what went wrong deserves your undivided attention. Leave any assignment of guilt where it belongs—to God—and concentrate on what you need to be doing.
At times we all feel like the world is against us. But, even if it was, does that mean you should lay down and die? There are people who succeed against seemingly impossible odds—victory is simply made sweeter by the struggle. There is no more gratifying feeling than working steadfastly towards a self-chosen objective, straining with heart, soul, mind, and body to reach that which is just beyond your grasp, and fully knowing that what you are doing is right for you.
Buds fulfill their purpose by blooming. So, too, do all your hopes and dreams. Those that don't will inevitably rot and fall.
Yes, the experience can be painful. But pain is God's way of letting us know we are still alive. Pleasure and pain constitute the yen and the yang of life—they seek equilibrium by balancing each other. We all hurt sometimes and the pain serves to make us tougher.
It is up to you to set the direction your life will go. Plot a proper course before you drift. Life's rocky shoals are strewn with skeletons of rudderless derelicts. You serve as the captain of your destiny and you alone can bring it to safe harbor.
During my late teens growing up in Southern California, I used to hang out with the kid across the street. We spent hours comparing bosses, complaining about how hard we had it. As time went on, I moved away and we lost touch. Twenty years went by before I returned to the old neighborhood for a visit. I was surprised (and disappointed) to find he hadn't changed a bit. As far as he was concerned, the world was still out to get him. His father had kicked him out of the house and he had moved into a small trailer parked at the far end of the driveway. Some people, I guess, never change. If you are happy like that, then it's O.K. with me. But most of us want more from life than that.
At times we all get stuck in a rut. It's far easier to react to stimuli than to use our brains. Yet if we don't, we can never hope to improve our condition—in fact, inertia dictates that we either keep moving forward or begin to slide backwards. Although going from a house to a trailer in the driveway might not seem so bad, the next stop can only be life on the street with a shopping cart for a companion. A few are born homeless, some are victims of circucumstance, however, most readily admit to having made themselves that way.

Loners Need Not Be Lonely

"We live as we dream - alone." - Joseph Conrad, Heart of Darkness
We are born alone; we die alone; and in between we compete to survive. Such is the nature of man. In this we are no different than any other species on this planet. Anyone who says otherwise is lying.
This does not mean, however, that we do not interact and form relationships with others. It takes nine people to play baseball and unless they play as a team, they will surely lose. Temporary relationships such as these are formed for a specific purpose and dissolved as soon as that purpose is fulfilled. It is solely the game that has brought these players together and there is no need for them to share their innermost secrets. The peril of doing so should be readily apparent to anyone who has ever read Ball Four, Jim Bouton's classic locker room exposé.
Although we tend to think of individuals with whom we closely associate as being our friends, we must constantly be on guard to prevent any Jim Bouton type who may be lurking among them, i.e. a wolf in sheep's clothing, from exploiting the relationship. I've singled out Jim Bouton, but, in truth, I think he is no different than any of the rest of us. It is the nature of the beast within us—we are all potential predators. People do what they must to survive. Trusting anyone farther than necessary is an invitation to betrayal. In extraordinary circumstances and under tremendous pressures, even the best of friendships can unravel. Tell no one more than they need to know and you won't get burned. You can be a nice guy without being a sucker.
Man is a social animal. Establishing bonds with fellow human beings is a natural, healthy desire. Most would argue that it is essential to the individual's psychological well-being. I do not dispute this fact. Nonetheless, a person would have to be a fool not to realize that the potential for danger is very real. Linda Tripp provides an example with which we are all familiar. Monica Lewinsky approached her as a trusted friend and co-worker, asking for Tripp's advice on a personal matter. Tripp took advantage of the relationship by surreptitiously recording their conversation. Wearing a wire is to me the ultimate act of betrayal. Of course, this was an extraordinary case involving no less a personage than the President of the United States. Still, if a savvy politician like Bill Clinton could be snagged in the fine mesh net formed by interlocking relationships, shouldn't that give all of us cause for concern?
The classic model of friendship which we learn as children is the story of Damon and Pythias. According to the tale, they were such close friends that when Pythias faced execution for plotting against a tyrant, Damon volunteered to take his place so he could go home and arrange his personal affairs. Should Pythias fail to return, Damon would be put to death. Of course, Pythias returned at the last possible moment and the gods, moved by the display of friendship, intervened and released them both.
Through the ages this tale has set the standard for faith and loyalty between friends. Too bad it's no longer so. Nowadays, a friend is someone you invite to your Princess House party or sell Amway products to. Friends are for networking and are valued for what they can do for you. Needless to say, friends are no longer necessarily soulmates. "To die for" has come to mean Haagen Daas and Gucchi—Damon and Pythias would find themselves very much out of place in our modern materialistic culture.
Damon and Pythias purportedly lived in the 4th century B.C. A lot has changed since then. In Roman times, most people lived in the place where they were born for their entire lives and came to know and trust their neighbors. But today, due to the increasingly mobile nature of the post-industrial workforce (pundits quip that we have become high tech nomads riding SUV's instead of camels), the average family uproots and moves once every three years. This is hardly conducive to deep bonding. When is the last time you went next door to borrow a cup of sugar? Do you know the last name of the people who live four houses down?
Friends are not what they used to be. Increasingly, the term is being applied to casual relationships in which we have limited knowledge of the other person's character. How much do we really know about a friend we meet in an internet chatroom? Most likely he or she is little more than a nameless, faceless personality, a cyber substitute for the real thing.
This is the era of the one night stand, wherein an individual we met a short time ago in a darkened discotheque is suddenly and miraculously transformed into a surrogate spouse. Afterwards, of course, we feel cheapened and demeaned. The seeming inability of a substantial percentage of the adult population to fulfill their lives through permanent, meaningful relationships is the dreadful tragedy of the modern age.
It would be all too easy to place the blame for the breakdown of the social order on the doorstep of greedy businessmen and the questionable influences of advertising. However, the fact of the matter is that an overwhelming majority of Americans like it that way. Consumption (often to the point where our cup runneth over) is addictive. One can never get enough. It is not that we don't like people, it is simply that material possessions and the sense of security that comes with them have become more important to us than our relationships. For Damon and Pythias in the 4th century B.C., the key to security was friends and family. Today, the key to security is a bulging stock portfolio and an IRA.
This trend towards ever increasing materialism should give us cause for alarm. I can remember when shop was used esclusively as a noun—never a verb. That there could ever be such a thing as an urge to shop was unthinkable to previous generations of human beings. Science fiction failed to predict the emergence of an artificial instinct implanted deep in the subconscious by means of subliminal messages delivered to us via our television sets. Have we lost control of our mental processes? Is advertising short-circuiting our brains and causing us to confuse our wants with our needs? More than 40 years ago, renowned economist John Kenneth Galbraith warned us in his book, The Affluent Society, that "wants can be synthesized...shaped by the discreet manipulations of the persuaders." I don't know about you, but I resent being manipulated, regardless of how discreetly it is being done.
Clearly, the propaganda of materialism—ads that continually assault our senses from billboards, newspapers, magazines, radio, television, and the internet—has gotten so far out of hand that it is having an adverse effect on the quality of life. No longer do we buy to satisfy our needs; we now shop till we drop in order to appease inner cravings. Anything taken in too large of a dose over too long of a period of time can become addictive. Shopaholics are sick people. Pushing the off button on the television only serves to reduce the symptoms. The sad truth is that the only complete and lasting cure involves some degree of withdrawal from society—in effect, becoming a loner.
Do you think you are immune to the effects of advertising? Think again. Advertisers don't always hit you over the head with their messages—they can be subtle when it pays them to do so. Edward Bernays, known as "The Father of Advertising," was a firm believer in surreptitious promotion. In the Depression era, when it was considered vulgar for women to smoke in public, Bernays hired 1,000 young women to smoke Lucky Strikes during an Easter parade. The best promotion, according to Bernays, leaves the victim unaware that he or she has been suckered. Vespa recently ran a campaign in which they sent good-looking people to trendy bars on Vespa motorscooters. The mission was to approach unsuspecting singles, strike up a conversation, and then ask for their phone numbers. Come the next day, the god or goddess they had met at the bar invariably failed to call, but a Vespa salesperson did.
Most of us embrace free enterprise because we believe that it is the system best suited to provide goods and services to the public in an efficient manner. However, when corporations become too big and powerful, as has become the case with a handful of multinational corporations, they gobble up competitors and literally force consumers to pay ridiculous prices for products which they foist on us through deceptive advertising (no down payment with 0% APR for example). Too often commercials fail to respect the thin line between promotion and exploitation. Clever ads do this subtly by design, transforming what was formerly a service, i.e. providing helpful information, into a disservice. The FCC—supposedly the guardian of the airwaves—turns a blind eye to what amounts to outright fraud. They can shove their ads. My right to privacy supersedes the license the FCC gave them to steal. Leave me alone!
The worst cases of saturation advertising come from the health care industry where since August 1997, when the FDA issued more liberal guidelines on direct ads to consumers, spending by pharmaceutical manufacturers on advertising has increased severalfold. I can't listen to the midday news report without being asked, "What's your excuse for not having more and better sex?," and being told that I can have the "real" Viagra prescribed over the phone and shipped to my door in a plain package with no embarrassing markings. Could they be more explicit? According to the spot ads—broadcast during the noon hour when a substantial percentage of the audience is composed of preteens eating lunch at home—the most important part of any relationship is "satisfying your partner." These ads have proven so objectionable that Pfizer has found it expedient to post a 19 page document on its website refuting claims that the purpose of such ads is to get patients to "pressure doctors for unnecessary prescriptions," thereby pushing drug prices higher and increasing profits.
A dishonorable mention in the health care products sweepstakes goes to Body Solutions who snidely inquire, "When you look in the mirror, do you see the Michelin man staring back at you?" If so, you need to fork over a bundle of money for nutrition spray, morning weight loss formula, and evening weight loss formula (contains aloe vera, trace minerals, and conjugated linoleic acid). Wouldn't it be ironic if this particular advertiser's bad taste really was the key to a slimmer you?
Excessive, saturation advertising should be forced to carry a warning label: "The Treasurer of the United States, the Chairman of the Federal Reserve, and the Secretary of the Treasury, hereby give warning that prolonged exposure to media ads can damage your financial well-being by encouraging you to buy consumer goods and services you do not need and/or cannot afford. Maxxed out credit cards, loss of credit, property liens, repos, and bankruptcy will follow in quick succession." All too many families live paycheck to paycheck as indentured servants of lending institutions. Most cannot identify the source of their economic difficulties and can only say that their purchasing has somehow gotten out of control. Of course, they blame themselves for their predicament instead of the constant subliminal assault by Madison Avenue on their buying habits in which techniques developed by behavioral scientists are misused to trigger an immediate gratification response. Although you may not rush out and buy a particular item, the likelihood of you eventually buying that product increases with exposure to its ads. Considering that most of us have limited resources, we need to spend our money wisely. The last thing we need is some greedy advertising firm tinkering with our minds. Don't get me wrong, a little advertising is helpful in that it informs the consumer and stimulates the economy. However, as in everything else, too much of a good thing becomes harmful. The solution, unfortunately, is not as easy as switching off the tube. It has been my experience that advertising is pervasive and omnipresent—it reaches us via radio, television, newspapers, billboards, and junk mail. Unless you are willing to at least partially withdraw from society, i.e. become a loner, you cannot escape its influence.
This reminds me of those old black and white movies from WWII in which the Gestapo major informs the downed American flyer that "we have ways of making you talk." Imagine an ad man playing the part of the bad guy, telling his captive audience via the airways that "we have ways of making you shop." And he does. Most of us already spend more than we earn. Do we do it because we enjoy it or has the pleasure proven to be fleeting and illusive? It seems that the bad guy has tricked us again.
Binge spending takes a tragic toll. When I take my Labrador, Speedo, for a walk, we pass by an Advance Paycheck store (the 21st century, slicker version of a pawn shop in which post dated personal checks function as the collateral). People are constantly going in and out—in fact, it appears to be doing more business than any other shop in the neighborhood. I did not say better business, because it is obvious to me from the frantic appearance of its customers that they are there because they have run out of options. Receiving an empty envelope on payday is the ultimate exploitation. Question: What is the difference between signing a contract under financial duress that effectively leaves an individual working for nothing for a stipulated period of time and indentured servitude? Answer: The indentured servant merits free room and board. Charging 150 to 200 percent interest is unconscionable. All too often, the victims of these loan sharks are enlisted military personnel for whom nonpayment of debt is a punishable offense under the Uniform Code of Military Justice.
I am not inferring that debtors should not be held accountable for their debts. A fool and his money are soon parted and, in my opinion, rightfully so. There is a world of difference, however, between being foolish and being pressured by outside forces to do something that is unwise. According to the Bureau of the Census, outstanding consumer credit debt rose 87.5 percent for the decade between 1990 and 1999, going from $796 billion to $1,393 billion. Considering that there was little or no growth in real wages over this same period, I am forced to conclude that either foolishness struck consumers in epidemic proportions or something else was at work. This was the Reagan era in which economic deregulation was a primary plank in the political agenda. The FCC saw its control over advertisers diminish, giving birth to infomercials, hitherto unheard of advertising of distilled liquors over the airways, and a brain-numbing expansion in the sheer number of commercials that television viewers are forced to endure. What is the likelihood of this having had little or no effect on consumer buying habits? Judging from the six figure incomes of advertising executives, it's practically nil.
Statistics published by the American Bankruptcy Institute say that consumer bankruptcy filings increased a whopping 475 percent between 1984 and 1997, going from 284,517 to 1,350,118 cases. In the same period business bankruptcy filings decreased from 64,004 to 54,027 cases. Who got the worst of it, consumers or business?
It is going to get much worse. One of the first bills to be passed under the Bush Administration concerned bankruptcy. The oppressive legislation limits access to Chapter 7 bankruptcy (the type that erases all debt) to those families with incomes below their state's median income level. All others must file under Chapter 13, which requires repayment under court supervision. While this may seem fair on the surface, research has shown that upwards of 75 percent of people who file for bankruptcy are middle-class families hit with catastrophic illness, unexpected unemployment, and/or divorce. Democratic Senator Paul Wellstone of Minnesota who voted against the measure said that "the little people are going to get smashed ...no question about it...[being] a wish list for the credit card industry and a nightmare for vulnerable families." In fact, banks and credit card companies, who get first dibs on any assets, lobbied heavily for passage, funneling millions into Congressional coffers. Federal Elections Commission figures show that banks and credit card companies gave $37.7 million to parties and candidates in 2000, up 75 percent from 1998. MBNA America, the nation's largest credit card issuer was also the nation's largest supporter of George W. Bush's successful bid for the presidency, anteing up $240,700 in hard money donations. And MBNA's Chief Executive Officer, George Cawley, was a member of a select group known as "Bush Pioneers"—each of whom raised at least $100,000 early in the campaign. Although the new "reform" bankruptcy legislation claims to promote financial responsibility, the credit card industry is in no way prohibited from encouraging everyone (including naive minors) to get into debt. Although I earned less than $15,000 last year, I received an average of three unsolicited applications per month. According to the Consumer Federation of America, in the third quarter of 2000 alone, credit card companies mailed 2.5 billion solicitations, extended 13 percent more credit than a year earlier, and reaped profits at a record five year high.
Some universities—Nevada, for instance—sell student names and addresses to credit card vendors. One study found that 6 percent of freshmen at UC Berkley have credit card debts of $2,000 or more. Many students are lured into applying for credit by an offer of a free T-shirt or calculator.
In February 1998, Sean Moyer, a University of Oklahoma junior with a part-time job in a department store, hanged himself while brooding over the $10,000 he owed on 12 credit cards. But where financial institutions are concerned, death does not necessarily bring closure. Sean's mother, Janne, says he still gets credit card offers in the mail. At least once a month, junk mail credit solicitations reopen this grieving mother's wounds. The latest to arrive was an offer for a "preselected credit line of up to $100,000 from Chase" . . . a not-so-subtle reminder that Sean died owing a substantial debt to Chase-Manhattan Bank.
At about the same time, Mitzi Pool, an 18 year old University of Central Oklahoma freshman, phoned her mother, sobbing and distraught over having lost her part-time job as a telemarketer, afraid that she would not be able to make ends meet. With a weekly income of $65, she had managed to run up a balance of $2,500 on three credit cards. Her mother tried her best, but could not convince Mitzi that she would eventually be able to get out from under her debt. Later that night, the police called to inform her that her daughter had committed suicide. When they found Mitzi, credit cards and bills were strewn about her bed.
According to research presented by Georgetown University sociologist Robert Manning, "The unrestricted marketing of credit cards on college campuses is so aggressive that it now poses a greater threat than alcohol or sexually transmitted diseases. Typically, students slide into debt through the extension of unaffordable credit lines, increasing education-related expenses, peer pressure to spend, and financial naivité reinforced by low minimum monthly payments and routine increases in credit." Credit has reached epidemic proportions; 78 percent of U.S. college undergraduates have at least one credit card and 10 percent of those with credit cards owe more than $7,000. If a student who owed $7,000 was to pay the two percent minimums at 18 percent annual percentage rate, it would take him or her 51 years and 9 months to pay off the debt, having cost the student a total of $19,931.76 in interest.
As I stated previously, the net effect of saturation advertising is to transform wants into needs. That this is having a negative effect on consumers is given credence by the number that are having to file for bankruptcy. What we need to do now is to examine the finite nature of our needs so that we can better satisfy them, as opposed to our wants which are limitless and therefore impossible to satisfy.
Abraham Harold Maslow, a co-founder of humanistic psychology, contributed greatly to our knowledge of human needs. Noting that "man is a wanting animal," he observed that as soon as we satisfy one desire, another takes its place. There is sense and order in the succession of motives, a distinct heirarchy of needs which he ably illustrated with a pyramid divided into ascending levels of human needs.

At the base of the pyramid are survival needs: water, sleep, food, reproduction, and shelter. Before going to the next level, each of these needs must be met. Should a deficiency be detected at some future time, we will drop everything else and concentrate on correcting the deficiency.
The second level of human needs is safety and security. This includes economic security and freedom from threats. People need to feel out of danger before going on to fulfill higher needs.
At each succeeding level, our needs become more complex. The bottom two levels are labeled deficiency needs while the top three levels are labeled growth needs. An individual is prepared to act on growth needs if and only if his/her deficiency needs have been fulfilled. Here is where saturation advertising wreaks its havoc by persuading us that life is not worth living without a cellular phone, Weber grill, and thousands of other non-essential products and services before we achieve financial security. There will be a time to buy all these things, but is that time necessarily now? A substantial number of the 1,350,118 consumers who filed for bankruptcy in 1997 undoubtedly did so as a result of purchasing products they really did not need or were not yet in a financial position to buy. Far too many individuals are getting the cart before the horse for it to be happening entirely by accident.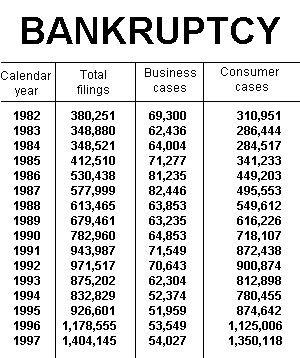 A later researcher named Alderfer modified Maslow's Heirarchy of Needs by including concepts from systems theory. According to Alderfer, relationships at the first two levels are characterized by one person's gain being another person's loss. This is not so much due to meanness or bad intent as it is to limited resources. In other words, it is the limited nature of resources which makes the Law of the Jungle operative at the deficiency levels. Unless the deficiency needs have been satisfied, which, needless to say, is not the case for the vast majority of us, individuals grab for all they can get in any relationship with the end result that one or the other almost always ends up feeling cheated. The operative pairs at the first two levels are strong and weak, winner and loser. This is simply the way it is. To quote former President Jimmy Carter, "life is unfair." Certainly this is more true for the have-nots, those of us in the multitude near the base of the pyramid who are attempting to claw our way up slippery slopes, than it is for the haves, who, having reached the apex, necessarily have an entirely different perspective.
At the third level is the need to socialize and belong. Once the survival needs are satisfied, a person will experience a need to be accepted. Relationships with others become more important and begin to be explored in greater depth. Thoughts and feelings are mutually shared in an effort to reach understanding. This is the touchy-feely stage of human development, the one at which New Age Spiritualists, clinical psychologists, behavioral therapists, liberals of every stripe and color, and other assorted do-gooders seem to assume we are all at. The fact is, however, that most of us are far too busy trying to make a living and survive to engage in what, from our perspective, appears to be utter nonsense. But the age of social engineering is upon us, and it is unlikely that those who think they know it all will refrain from imposing their way of life on the rest of us.
Perhaps the strangest example of misplaced social engineering is occurring in today's armed forces where recruits are receiving sensitivity training concurrently with being taught to kill. The end result is confusion. It is impossible to rip an enemy's guts out with a bayonet while considering his feelings.
The topmost levels of the pyramid are ego, i.e. an individual at the fourth level is motivated to seek status and prestige, and self-actualization, i.e. an individual at the fifth level derives satisfaction through creativity and innovation. From these lofty heights, leaders are expected to emerge. That they are no longer the quality of a George Washington or a Thomas Jefferson is to be lamented. Too much soft living and touchy-feelyism can undermine a culture. It is a sad fact that successful societies eventually tumble into decadence. But don't expect a revolution tomorrow or any time soon. The decline and fall of the Roman Empire took many centuries and was followed by a breakdown in the social order.
Do you trust today's leaders? And are you confident that the system will fulfill your needs? If not, if you have already felt the need to rely on your own judgment and fend for yourself, then you are moving in the direction of self-reliance and independence and are much closer to being a loner than you would probably care to admit. Have you ever wondered what you would do if the social order suddenly crumbled? That it is not likely to happen any time soon does little to allay our fears. Consternation over widening cracks in society's framework is mounting. Because security is a deficiency need, any lessening in its overall nature as perceived by the public is bound to have a devastating effect.
Civilization is an incredibly thin veneer. Even those at the top of the pyramid are likely to behave like animals if they feel threatened. Do you remember Patricia Hearst? She was the direct descendant of newspaper magnate William Randolph Hearst and never lacked for anything money could buy—a perfect example of proper breeding and education. In 1974, she was kidnapped by Symbionese Liberation Army terrorists. Deprivation, it seems, is a powerful motivator. After some months of experiencing just how rough life could get by failing to cooperate, she went over to her captors and was later convicted by a jury of having willingly used a machine gun to help them loot a bank. Scratch the surface of a debutante and you may well find a terrorist lurking beneath the skin.
There are approximately six billion people in the world today, the vast majority of whom do not have their deficiency needs met. Empty bellies cause dissatisfaction and unrest. The challenge to the leaders of the 21st century will be to integrate these people into the global economy before violence and terrorism can destroy civilization. Nobody likes getting left behind. Until the chasm between the industrialized giants and the underdeveloped nations/
the haves and the have-nots/the rich and the poor narrows, we can expect the turbulence to continue. Doing without in the midst of plenty is both intolerable and unnecessary. We gain no advantage by keeping others down.
* * *

Becoming a loner isn't easy. Planet earth is so crowded that only the wealthy can afford to get away from it all. Living in a one-room, windowless cabin in Montana might appeal to some, but I prefer T-shirts to hair shirts and see no reason to punish myself for the wasteful consumption and degenerate lifestyles of others.
Independent thinking is the characteristic that distinguishes a loner from the herd. Where you live is of less importance than what you do with your life. It is possible to live in a big city and not succumb to infectious consumerism; all it takes is mental discipline. Live your life the way you want to live it—not the way large corporate interests would have you live it.
A little common sense goes a long way. Why people would ever willingly mortgage their lives for baubles and trinkets is beyond me. The Indians who sold Manhattan for a handful of beads made a better deal than most people get on a bank loan.
Borrowing money is like casino gambling: the percentages are always with the house. The longer you stay at the table, the more the croupier rakes from your pile. The big difference is that in casino gambling you occasionally get to win. Nobody has ever won at borrowing—it's a fixed game that only suckers play. Chances are that by the time you finish paying off the loan, the consumer goods you bought will have worn out or lost their value.
The excuse most often given for borrowing is that people want to live now. Few comprehend that time is really what the game is all about. You get a little fast cash now and the bank gets much more later. So, who gets to live better? Have you ever heard of a banker with shabby clothes, a beat up car, and a rundown house? If your goal is to live well, borrowing is definitely not the way to go about it.
Besides, there is a lot more to living well than accumulating consumer goods. How you feel about yourself is possibly the most important factor determining happiness. Do you do what you think is right or do you do what is expedient? I've found that all too many people nowadays follow the path of least resistance and make themselves miserable by doing so. You might fool others, but you can never fool yourself. Are you the kind of person you respect? If not, then you might as well return to the point where you went wrong, because the path you are presently on doesn't go where you ultimately want to go.
You will recall from Maslow's Hierarchy of Needs that another factor in living well is satisfying the need to belong. Although this may appear to contradict our stated rationale for becoming a loner, it actually does not. It isn't necessary to spurn society to be a loner—as I stated earlier, interacting with individuals one-on-one is, in my opinion, both healthy and desirable—rather it is the overbearing and oppressive dictates of megacorporations dedicated to achieving uniformity by pounding well-rounded people into square holes that we reject. Maslow states that in order to realize our full potential, we need to grow. For those of us who work dead-end, minimum wage entry level jobs, this is little more than a cruel joke.
Young people's survival needs are generally supplied by their parents. Thus, as Maslow's Hierarchy of Needs would predict, the youth culture is all about belonging. Corporations such as Nike, The Gap, and MTV don't just sell products and services, they vend lifestyles. Those who belong do like Michael Jordan and wear the Nike swoosh. Belonging, according to the ads, can be bought just like any other commodity. Nothing—neither personality, talent, character nor education—is as important as wallet size. Steal, beg, borrow, pay overseas workers 14 cents an hour—"Just Do It"—the ends justify the means when the cherished logo is at stake. Is it any wonder that impressionable youths force-fed this highly volatile, perversely materialistic weltanschauung could become so desensitized as to be capable of slaughtering classmates? Harris and Klebold were not loners or outcasts as initial reports of the Columbine High School murders would have had us believe; a shared interest in fantasy baseball and other activities normal for boys of their age would indicate a strong desire to belong. I suspect that it was frustration with the mechanics of belonging—exactly what one might expect from teenagers who had a BMW and everything money could buy, but still didn't have a clue as to what life was all about—that initially produced the hatred that later would fester into violent action. To say that consumerism does not deserve all of the blame is not to deny it was a contributing factor.


* * *
As Thoreau saw it, city life is little more than "millions of people being lonesome together." Our cave dwelling ancestors had a healthier and more satisfying social life than today's yuppies. Does meat taste better when grilled in a restaurant or when it is cooked over an open wood fire? Is cyber sex an improvement on ordinary sex? Does watching extreme sports on cable television provide us with a proper substitute for the rush that early man felt when he chased his quarry? When it comes to fulfilling real needs, there is nothing like the real thing.
While technology advances, the human beings who use it remain pretty much the same. Five thousand years of evolution have seen fewer physical changes in man than the last fifty years have made in the automobile. Our needs are not as complex as we would like to believe. Pretensions of sophistication have gained us ulcers, heartburn, hypertension, and eyestrain. Live right today and you can flush the Prozac down the toilet tomorrow.
Eminent French philosopher Jean-Paul Satre mused that "if you are lonely while you are alone, you are in bad company." Instead of looking for fulfillment through others, we should be improving ourselves. Have you read Homer, Cervantes, Shakespeare, Dickens, Bronté, and Poe? Are you familiar with the paintings of Reubens, Caravaggio, Ingres, and Rembrandt? Do you know why Pete Rose and Shoeless Joe Jackson were expelled from baseball? Have you ever flown upside down or stood up at a political gathering and voiced a contrary opinion? You are as interesting as you make yourself.
It is far easier to affect changes in yourself than to affect changes in others. Besides, you can't really expect to solve the world's problems until you have solved your own. Do you meet the high standards you demand from other people? True pleasure comes from being the best you can possibly be. Immediate gratification (whether it comes from alcohol, sex, drugs, or consumer goods) is but a momentary distraction from the pain which we all experience in the struggle which is life. Far better to climb to the summit and achieve self-actualization than to spend a moment longer than necessary grubbing for survival at the bottom of the Hierarchy of Needs. Stay focused and no force in the world can hold you down.
Of course, it would be nice to have your cake and eat it too. But this type of rationalization usually leads to the abandonment of goals. A common example is that high school seniors who elect to travel for a year before going on to college seldom go back to school and, of the few who do, fewer yet graduate. Take a detour and you take a chance on getting lost. Lose your way a few times and someone else will end up eating your cake.
But what about cheesecake? Life gets dull fast for those who pay no attention to the opposite sex. What you do in your private life is your own business. But never forget for a moment that in choosing to pursue your sexuality, you are opening a wide door to distractions, temptations, and obsessions that have the potential to take over your life.
Nothing is more pathetic than a pussy whipped male or a female punching bag. Contrary to popular opinion, bad sex is not better than no sex. Should you find yourself in this type of situation, celibacy may be the optimal choice. Your common sense should tell you that if something is causing you pain, you need to stop doing it for a while. Although celibacy and sainthood are not necessarily synonymous, it is easy to see why the two are closely associated. Freeing your mind of sex permits you to focus on matters that are more important in the overall scheme of things.
One of the biggest misconceptions about loners is that we are lonely. What utter and complete nonsense! It is the banality of being a nameless, faceless marketing target continually being bombarded with tons of degrading, commercialized sex while inwardly longing for a single ounce of genuine love that makes people lonely. Get rid of the packaging and you will see that what they have to sell isn't worth the price.
Remove the spangles and scrub the face paint from a Las Vegas showgirl and you have just another exploited working woman trying desperately to earn a living. Get it in your head that people do what they do to survive and you will be ahead of the game. Think otherwise and they will justifiably treat you as a rube, ripe for a fleecing.
Of course, it's natural for everyone to feel lonely once in a while. Next time the urge for genuine affection strikes, instead of blowing a bundle in a nightclub, try adopting an abandoned puppy from the pound. My Labrador, Speedo, is infinitely more loyal than my two ex-wives and considerably cheaper to keep. There could be no better companion. Of all the animals that God put on this earth, dogs have grown the closest to Man. They do not choreograph their emotions or play head games. It's almost impossible to be lonely or depressed with a dog around. If society would treat us ordinary citizens half as good as our dogs do, there would not be any loners.

The $hit End of the Stick

"Never give a sucker an even break." - W.C. Fields

Normally I would deem a title such as the above inappropriate for a book such as this. It is not so much that the reader would be shocked or offended, but that vulgarity tends to subtract from the quality of one's argument, while adding nothing of importance to the gist. I came very close to titling this chapter The Short End of the Stick. Please permit me to explain why I did not.
Prior to the 20th century, the majority of Americans lived on small farms. When a cow or a horse got sick, the most common way of administering treatment was by means of suppositories. Often, this required the use of a stick. As you can well imagine, many jokes circulated about farmers, who, due to some unanticipated twist of fate, ended up holding the "shit end of the stick." Today, these jokes have largely lost their relevance. The few that do survive have been sanitized into the "short end of the stick."
This chapter proposes to examine what type of deal most of us feel we are getting from the corporations that employ us. As you probably already suspect, there is nothing clean about it. There is no mechanism by which I can convey the degree of filth without making reference to fecal matter.
Entry level positions in corporations are all pretty much the same. They start with a probationary period of somewhere between 90 and 180 days during which the worker can be terminated without giving any reason whatsoever. This is one hell of a way to start a new job. What crime did the new worker commit that resulted in him/her being sentenced to probation? Is this punishment without cause meted fairly to all or are newly hired management employees exempted? Why isn't this sort of discrimination illegal?
Things could be worse. Part-time and temporary workers don't really have a job. They get shuffled from company to company and have absolutely no rights. Keeping a few of them around helps to remind workers how easily they can be replaced.
Newly hired workers are normally not permitted to participate in the company's medical plan until they have finished probation. If they or their dependents become ill or suffer an injury in the interim, it's their own tough luck. And, to add an insult to the injury, a probationary employee who misses work can almost always expect to be fired.
Like most people, I deeply admire courage. Senator John McCain is one of my heroes. In his autobiography, Faith of My Fathers, the former Navy pilot and Republican presidential candidate describes the horrible way he was treated by his captors after being downed by a surface-to-air missile while on a bombing mission over North Vietnam. As his A-4 with it's right wing gone violently spiraled towards earth, McCain ejected and landed in the middle of a lake, mangling both arms and his right knee. Later, he was struck with a rifle butt in the shoulder and bayoneted in the ankle and groin by a crowd of angry Vietnamese. They threw him onto the damp floor of a filthy cell in the infamous Hanoi Hilton and, though he pleaded for a doctor, refused him medical treatment for four days because of his "bad attitude." When they finally took him to a hospital, the care he received was less than adequate.
Not having signed the Geneva Convention, the North Vietnamese maintained that they had no responsibility to treat downed fliers as prisoners-of-war. It was a legal technicality that McCain and his fellow POW's constantly protested.
Like McCain's mean captors, employers love to wallow in legal technicalities. Their rationalization for withholding medical care from new hires and their dependents is that these workers are not yet full fledged employees. Something here really stinks. Corporations on whose side we are on refuse medical care for 90 to 180 days whereas the evil Communist enemy relents after four days. It makes you wonder who is guilty of crimes against humanity, doesn't it?
There are those who would argue that care is always available at county hospitals. I know better. The county hospital near me has been demolished to make way for a building supplies retailer. As employers increasingly abrogate their responsibilities towards their employees, government is expected to pick up the tab. When it refuses, as happens all too often, sickness goes untreated and disease gains the potential to spread and infect the rest of us.
Failing to provide new hires with health coverage is a sin of omission that would be forgivable if American businesses were not making a profit. According to Forbes magazine, however, business could hardly be better. In 1999 profits increased 26 percent for America's 895 largest corporations. The Federal Reserve says the current economic expansion is the longest on record. There seems to be no reason for being stingy other than greed.
But to be fair, we need to look at whether the people who run these companies are acting out of dedication to principles. Isn't it possible that they ask no more of others than they are willing to give of themselves. Maybe it was hard work and self-denial that got them where they are today.
The numbers say otherwise. Michael D. Eisner, head honcho of Walt Disney, received a compensation package (salary plus stocks) of $589,101,000 in 1998. The following year, earnings of the top 800 heads of corporations jumped 12.8 percent to a combined total of $5.8 billion. Clearly, these men are in it for the money.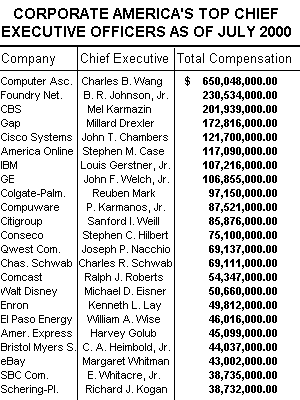 In 1981, America's 10 most highly paid chief executive officers were paid an average of $3.5 million each. By 1988, the average had climbed more than 450 percent to an unconscionable $19.3 million. A dozen years later, in 2000, the aveage annual pay of the Top Ten had soared to $154 million. Does anyone really believe that the services rendered by these men were 43 times more valuable in the year 2000 than they were in 1981?
Gilbert Amelio, the former CEO of Apple Computer, serves as a good example of how corporate greed is out of control. According to an executive pay report in the Wall Street Journal, Apple lost about $2 billion during Amelio's brief tenure of 17 months. Some 3,600 employees lost their jobs. Yet Amelio's "golden parachute" exit clause garnered him $6.7 million in severance pay plus other compensation. Amelio had the nerve to say that the Apple package "didn't protect my downside as well as I had hoped it would."
Most corporate leaders would say any government regulation of CEO pay would be a terrible interference in the free market. But the federal government is already deeply involved in CEO salaries through the tax code. The tax code allows businesses to deduct a "reasonable allowance for salaries or other compensation." Since the code doesn't define the term "reasonable," corporations can—and do—routinely deduct 100 percent of exorbitant executive pay packages. The corporation pays less in taxes than it should, and the ordinary taxpayer—you and I—picks up the slack.
Chief executive officers also benefit tremendously from a cut in the long-term capital gains tax from 28 percent to 20 percent. For every $1 million in long-term capital gains they get from the sale of stock, they now pay $80,000 less in taxes. They purportedly receive large salaries and perks because they have enormous responsibilities. However, under current Security and Exchange Commission regulations, neither chief executive officers nor chief financial officers can be held responsible for the information in quarterly and annual reports. Enron's chief executive officer, Kenneth Lay, hid more than a billion dollars in debt from investors without going to jail.
Yes, the rich are getting richer. And, to make things worse, they are doing it at the expense of taxpayers like yourself. You probably already suspected as much. What you really want to know is how everyone on the other end—the end of the stick that fate stuck you with—are faring.
A study funded by the Russell Sage Foundation, as reported in the July 10, 2000 issue of Business Week, concludes that "despite America's record-breaking economic boom, poverty among full-time workers has increased." According to Dr. Linda Barrington, the author of the study, "the number of full-time workers classified as poor increased between 1997 and 1998. Over the last quarter century, the poverty rate among full-time workers has been higher only twice—1982 and 1983—years in which the economy was coming off a recession."
"Simply working full-time year-round, even in a booming economy, is not enough to lift everyone out of poverty," says Barrington. "The benefit to the lowest paid workers from being fully engaged in the workforce, as measured by the poverty rate, is not improving. This time trend provides an important economic backdrop to the recent movement of people off government welfare rolls and into the workforce, as well as cautionary context for these otherwise prosperous times."
The study further determined that since 1973, poverty has increased in both overall number and as a percentage of people employed full-time and year-round. Nearly three percent of all full-time workers were living under the poverty line (defined as $13,003 for a family of three) in 1998, the latest year for which data was available. Including dependents, this could be upwards of five million people.
The Boston-based organization United for a Fair Economy (UFE) discovered that if the 555 foot Washington Monument reflected the average 1997 CEO pay, then a replica depicting average worker pay would be just 21 inches tall. The Workers Monument shrunk almost a foot in a year. In 1996, it measured 32 inches. Back in 1970, when the wage gap was 41 to one, the Workers Monument measured 13 feet, 6 inches.
The UFE unveiled the Workers Washington Monument at a Capitol Hill press conference. Chuck Collins, UFE co-director, said, "In 1970, it would have required a pickup truck to transport the Workers Washington Monument. By 1996, you could carry it on an airplane and put it in the overhead luggage bin. The 1997 model fits easily in the little space under the seat." Nowadays, the Workers Monument would fit in your pocket.
In their 1992 book, Putting People First, Bill Clinton and Al Gore remonstrated, "It's time to honor and reward people who work hard and play by the rules...No one who works full time and has children should be poor any more." Now, eight years later and at the end of their second term in office, I think it appropriate to ask where is the fulfillment of that promise? Clearly, those who play by the rules are losing the game.
The Money Is No Good